Here at FEV Tutor, we are truly inspired by K-12 School & Districts around the country and their ability to adapt, innovate, and rapidly transition to Remote & Distance Learning during the current national crisis. We recognize the circumstances have been constantly evolving and new research from NWEA's Collaborative for Student Growth Research Center suggests that students heading back to school next fall will be impacted by an academic skill loss (COVID-19 slide) that will require planning strategies to bridge these skill gaps.
According to the article Researchers' Urgent Message for Schools: Start Planning Now for a Precipitous 'COVID Slide' Next Year there are new reports that predict dramatic losses in education will be attributed to several months of schools closures. That means that for some grade's students "may end up an entire year behind where they would have been academically, absent COVID-19."
In the article, Chris Minnich, CEO of NWEA and his colleagues determine that "Districts, charter school networks and other schools… may want to consider bringing students back earlier, keeping them for longer school days or academic years, or otherwise increasing the amount of time pupils have with teachers. In turn, teachers will need more strategies for serving students with wildly varying needs in a single classroom."
The Research Summarized
Researchers Dr. Beth Tarasawa and Dr. Megan Kuhfeld generated MAP data from approximately "5 million students in grades 3-8 during the 2017-18 school year and separate, existing research on summer slide — academic losses that occur during protracted school breaks."
NWEA MAP (Measures of Academic Progress) Growth tracks the most precise measurement of student's academic achievement. A computer-adaptive assessment, it adjusts to student's responses to provide personalized results about what each student knows, is able to do, and is ready to learn next. Many schools and districts throughout the country use the exams to gather data at the start of the year, midyear and end-of-year assessments.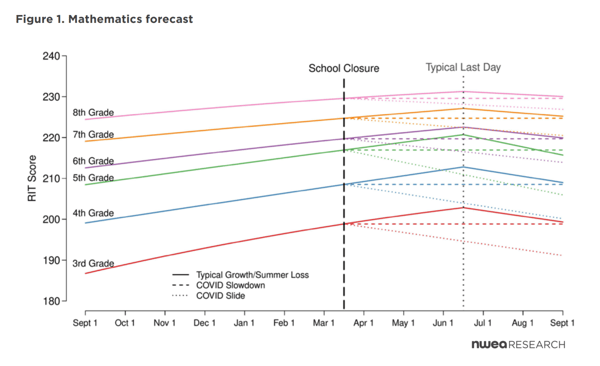 Dr. Tarasawa and Dr. Kuhfeld reviewed the typical average growth path by grade for students who completed a standard length school year. They took that information and compared to projections under two scenarios for the closures: a COVID-19 slide, in which students showed patterns of academic setbacks typical of summers throughout an extended closure and COVID-19 slowdown, in which students maintained the same level of academic achievement they had when schools were closed (modeled for simplicity as March 15, with school resuming in fall).

Though these are just preliminary projections, the information parallel many education leaders' fears: missing school for a prolonged period will have major impacts on student achievement come fall 2020. Once schools are back in session, schools and districts need to be prepared to support students who will be academically behind.
---
Ways FEV Tutor Can Help
All of us collectively are looking for ways to help, and FEV Tutor believes that our work aligns directly with current initiatives and challenges. "How do you help a second-grader missing half a year's learning come back and also be expected to learn to third-grade standards?" says Minnich. "And what about the third-grade teacher who is going to have kids with a wider range of skills than normal?"
The research done by NWEA directly intersects with FEV Tutor's work and vision as an organization. We have a track record of closing achievement gaps for At-Risk students and other Special Student populations. FEV Tutor is a Level 2 ESSA Evidence-Based Intervention model providing At-Risk and other special student populations the support they need while assisting teachers as extension.
With our Equitable Remote Learning powered by 1:1 Live Online Tutoring and FEV's Family and Student Engagement team we can help keep students engaged and be an extension of our school and district partners. We offer 24/7 academic consultation, enrollment, scheduling, technical support, and is a vital link between parents and educators while distance learning.
---
Want to learn more?