CHALLENGE
ACCEL Charter Schools is a charter school network that serves more than 11,500 students in grades K-8 across various socio-economic backgrounds in the state of Ohio and nationwide.
In the winter of 2019, ACCEL chose to partner with FEV Tutor to help drive gains on the NWEA MAP Assessments and bridge skill-gaps in Math and ELA for students in Grades 3-8 across 9 of the turnaround schools in Ohio. These schools were the lowest-performing across the network, with less than 30% of students meeting grade-level proficiency.

SOLUTION
ACCEL administrators and instructional coaches across all nine schools identified at-risk students in grades 3-8 who were performing below grade level on the Winter NWEA MAP Assessments and were in jeopardy for scoring below proficiency on the Ohio State Assessments.
District leadership shared the Winter NWEA MAP data so that the FEV data team could analyze and identify students that would benefit most from live 1:1 tutoring and create Personalized Tutoring Plans for individual students in Math and ELA. Students participated in targeted tutoring intervention during the school day. Tutoring Plans were based on MAP data, focus areas, and target standards as identified by Instructional Coaches and teachers.
---
SCHOOLS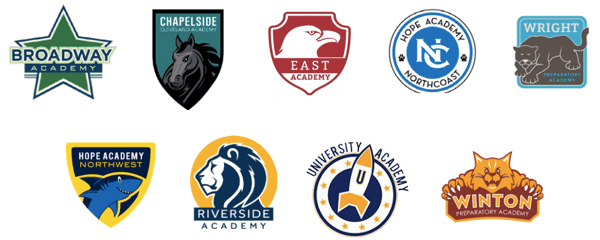 ---
THE RESULTS
FEV Tutor worked with ACCEL leadership to complete a growth analysis utilizing NWEA MAP data to measure the impact of online tutoring support on student growth from Winter-Spring.
Winter-Spring NWEA MAP Growth
FEV Tutor Participants demonstrated accelerated growth compared to Non-Participants in both Math and Reading. The national average for RIT scores in Math is 3.6 and ELA is 1.7. Students exceeded national RIT Scores in Math (7.3 points) and ELA (6.5 points).