CHALLENGE
Epic Charter Schools, the fastest-growing school district in Oklahoma, had an urgent need to fill a live instruction gap and partner with an innovative Online Tutoring organization that could support and sync with its unique virtual/blended, personalized learning model while bridging skill-gaps in Math and English.

SOLUTION
FEV Tutor worked collaboratively with Epic Charter Schools leadership to customize an online tutoring model that meet the needs of their growing student population and together honed that model through 5+ years of partnership.
Epic's tutoring model has two main components:
24/7 Homework Help – 'around the clock' tutoring available for all students in 3rd – 12th grade. Students request 'point of need' on demand support and schedule lessons with preferred tutors in all core subject areas.
Targeted Support – school leadership analyzes periodic benchmark assessments including NWEA MAP Growth data and identifies target cohorts of students who would benefit most from highly targeted tutoring to bridge skill-gaps in Math and Reading.
---
DEMOGRAPHICS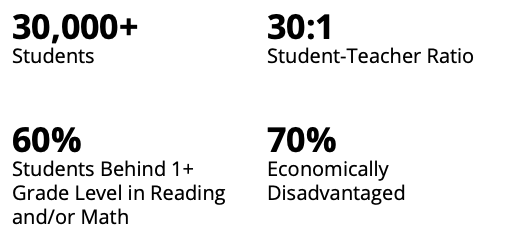 ---
THE RESULTS
In the 2018-19 Academic Year alone, over 24,000+ Epic Students participated in 214,000+ tutoring lessons. 55% of students who participated in 15+ lessons Met or Exceeded National Growth Norms on the Math and Reading NWEA MAP assessments vs. 47% of students who did not participate in any.
Based on perennial academic growth and student participation data, Epic and FEV Tutor have continued to expand the program year after year to support additional students. In the 2019-20 Academic Year, over 30,000 students are projected to actively participate in Online Tutoring.