---
ANNOUNCING A NEW VIRTUAL TUTORING MODEL:
We're happy to announce our newest virtual tutoring model: Blend & Extend! FEV created this new tutoring model after speaking to many of our partners who were looking for a way to offer their students scheduled targeted tutoring during academic programming and offer students live, 1-to-1 support outside of the school day for homework help, course support, and more.
---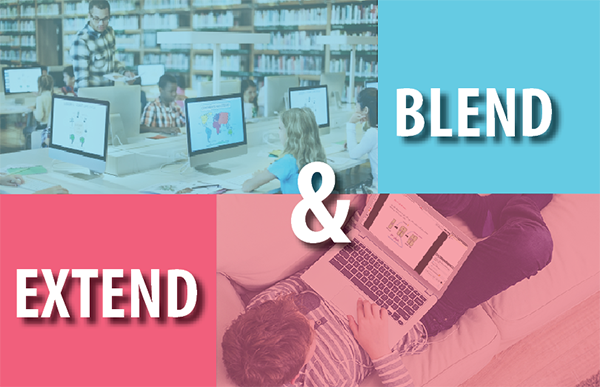 Why offer Blend & Extend Tutoring?
Partners enjoy our new Blend & Extend approach to virtual tutoring because it enables schools and districts to offer their entire student body live, 1-to-1 support both during the school day and outside of traditional school day programming on evenings, nights, and weekends. Schools and districts can now deliver students 2 complementary academic tutoring models to support the diverse needs of all student populations, from struggling learners to more advanced and gifted students.
Aligned to Students Core Classroom:
For schools and districts that choose to offer Blend & Extend Virtual Tutoring, we work closely with your staff to identify students eligible for Blended Tutoring and to establish the goals of the program. FEV collaborates with your team to establish a tutoring schedule and collect student benchmark data to formulate Personalized Tutoring Plans for Blend students. Additionally, our Education Team will compile your school/district curriculum resources, lesson plans, and pacing guides so that both Blend & Extend Tutoring becomes a natural extension of the core classroom.
Parent Involvement:
FEV Tutor's Family & Student Engagement Team is an integral part of the Blend & Extend Virtual Tutoring Model. This team represents a resource for schools to ensure that students are getting the most out of your virtual tutoring services. FEV's Engagement Coordinators are available 24/7 to provide academic consultation, technical support, and to keep parents involved in their child's academic success. We create awareness among your community of the availability of Extend Tutoring Support through outreach campaigns and parent/student orientations. FEV even shares weekly updates directly with families to keep parents updated on their child's progress.
---
Blend Tutoring Programs
Blend Tutoring Programs are offered either during the school day or in an after school setting. Typically, students work with their tutors based on Personalized Tutoring Plans created by analyzing student benchmark data and by collaborating with school and district staff. Tutoring is designed to become an effective teacher resource to drive tangible academic gains. Virtual Tutoring sessions are pre-scheduled and students work on established learning objectives to bridge skill gaps, prepare for high stakes exams, and more.
Example delivery models include:
School Day Programming
After School Programming

RTI Times
Computer Lab Times
Rotational Models of Instruction
Whole Class Instruction
Remedial Times
In-School Suspension
HW Lab/Study Hall Support

After School Academic Support
HW or Course Help
Targeted Instruction
Enrichment
---
Extend Tutoring Programs
Extend Tutoring Programs provide students an extra layer of tutoring support from a live, 1-on-1 professional tutor outside of the school day. Tutoring sessions can be pre-scheduled or accessed On-Demand 24/7 from any computer or tablet with an internet connection. Tutors have access to all content and curriculum utilized in the core classroom to assist students in real-time. Students can get help with homework assignments/coursework, prepare for an exam, or work with tutors based on a Personalized Tutoring Plan. Our Family & Student Engagement Team is here to make sure that each family has the support they need to take full advantage of the Live, Virtual Tutoring services.
Example delivery models include:
Evenings, Nights & Weekends:
Homework Help
Course Support
Targeted Support
Schedule and/or On Demand
Supporting Saturday learning programs
Around the clock live tutoring support
---
Is Blend & Extend Tutoring Right for your School?
Are you interested in learning more about FEV Tutor's innovative Blend & Extend Virtual Tutoring offerings? Schedule a time to speak with one of our Educational Consultants to learn how we can customize Blend & Extend tutoring to meet your school or district's unique needs: