This spring has brought a lot to celebrate for the FEV Tutor Team! On the heels of an exciting win for the Best Tutoring Solution for Edtech Digests 2021 Cool Tool Award and our recent Research-Based Design Product Certification from Digital Promise; we're honored to announce that FEV Tutor's Live 1:1 Online Tutoring was named an SIIA Education Technology 2021 CODiE Awards finalist for a third consecutive year!
FEV Tutor's Innovative Intervention is a finalist in the following three categories: outstanding response to COVID-19 for Best Remote Learning Partner K-12/High Education, as well as Best Virtual Learning Solution, and Best Foundational Mathematics Instructional Solution.
In a press release regarding FEV Tutor's finalist position as an outstanding response to COVID-19, Ryan Patenaude, Sr. Vice President and Co-founder commented:

"From the beginning of 2020 into 2021, we've experienced some of the most challenging circumstances in recent memory/history," said Ryan Patenaude, Sr. Vice President & Co-Founder. "Through that adversity, we saw K-12 Educators and Education ecosystems stand tall, adapt, innovate and truly fight each day on the front lines, of continuity and support for the future of this nation's children and students." Read the full excerpt here.
It is genuinely humbling to be among the finest organizations in edtech today. We continue to strive to bring the highest quality educational interventions to students, educators, and their more significant communities. The SIIA CODiE Awards are among the most prestigious in edtech and are the only peer-reviewed awards program in the industry. Initially judged by educators and administrators, the criteria for consideration includes "the best education technology product that supports remote learning in a (post) COVID-19 world, provides the remote learning educational solution that best delivers course support, and is the best instructional product that offers mathematics curriculum and content for students in the PK-8 market," and more!
With 10+ years of experience in the remote learning environment, we feel confident in our ability to provide high-quality Live 1:1 Instruction under any circumstance and believe we have what it takes to be a strong competitor in all of these categories. Win or lose, the team at FEV Tutor is honored to be recognized alongside fellow leaders in the Edtech space.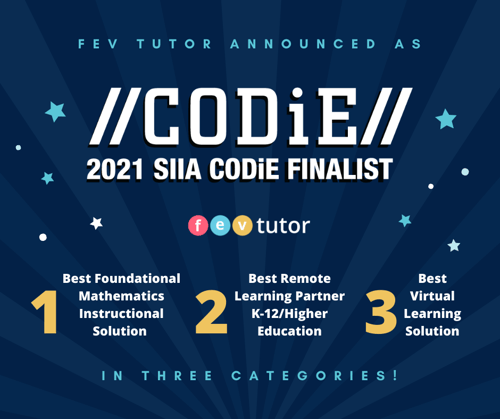 The SIAA CODiE Awards have been recognizing products, services, and solutions since 1986 and currently acknowledge innovative and impactful companies across 45 education technology categories. We're on the edge of our seats waiting for the announcement celebration on June 23rd!