We are so excited to share that for the second consecutive year; FEV Tutor's Innovative Intervention & Prep (Live 1:1 Instruction) was named an SIIA Education Technology 2020 CODiE Awards finalist! This year, FEV Tutor is a contender in the category Best Mathematics Instructional Solution for Grades PreK-8. It's an honor to be among the finest in virtual learning, and we strive to get better every day._The SIIA CODiE Awards are the ed-tech industry's only peer-reviewed awards program. Educators and administrators serve as judges and conduct the first-round review of all education nominees. Their scores determine the SIIA CODiE Award finalists, and SIIA members then vote on the finalist products. To become a finalist means we had to first get the seal of approval from those we most want to help!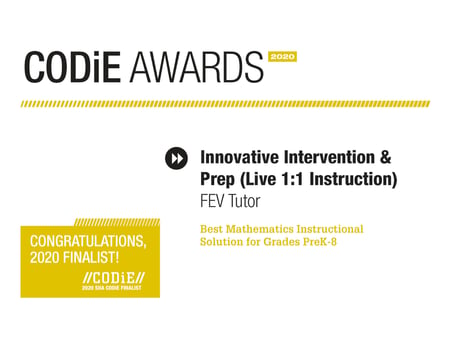 The criteria for consideration is "the best instructional product that offers mathematics curriculum and content for students in the PK-8 market," and that "the solution provides for deep and personalized learning experiences for students, supports standards alignment and reflects current curriculum practice." At FEV Tutor, we believe in our program and its ability to provide high-quality instruction as an extension of classroom teacher, but win or lose, we're grateful to be acknowledged by such a prestigious organization.
Our Vice President and Co-Founder had this to say in a recent press release about becoming a finalist in the CODiE Awards:
"We are very proud of our FEV Tutor team for being selected for the 2nd year in a row as a CODiE Award Finalist," and "We are also grateful for and humbled by all of our K-12 school, district and charter school partners. Without their ongoing efforts to drive innovation and continuous improvement in classrooms (and virtual classrooms) across the country, FEV Tutor would not be able to grow our mission and make an impact on the lives of students."
FEV Tutor's live 1:1 online tutoring is one of the finalists across the 37 education technology categories. Being a finalist among other innovative and impactful products in education is very exciting, and we're anxiously awaiting the virtual announcement celebration taking place May 19, 2020!