Social-Emotional Learning (SEL) has become somewhat of a buzzword in education today, but it can be hard to know what exactly the term means. According to CASEL, "Social and emotional learning is the process through which children and adults understand and manage emotions, set and achieve positive goals, feel and show empathy for others, establish and maintain positive relationships, and make responsible decisions." In schools, this "whole-child" approach to teaching and learning is meant to empower students in the classroom and further on into adulthood.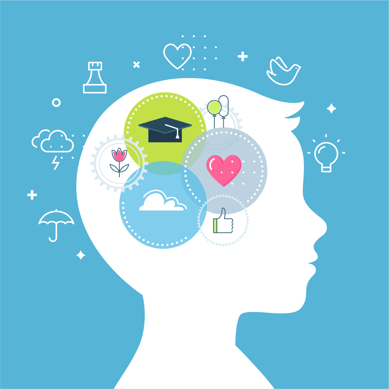 Five Core Competencies of SEL:

1. Self-Awareness: The ability to reflect on thoughts and emotions and recognizing the influence they play in behavior.
2. Self-Management: The skills to regulate those emotions & behaviors
3. Social Awareness: The capacity to empathize and see things from another's perspective.
4. Relationship Skills: Establishing and maintaining healthy relationships
5. Responsible Decision-Making: Making constructive decisions about personal behaviors
Why does it matter?
A child's social and emotional aptitude can be predictors for how they're able to adjust to their environment and adapt to change. These essential skills in the classroom are also indicators of success later in life. While in school, this approach to teaching can aid in closing achievement gaps and can promote and increase student motivation.
Where to start?
In helping children develop these complex life skills, it can be challenging for educators to know where to start. An important thing to remember when designing an SEL friendly curriculum is that it must also address issues of equity. Additionally, SEL isn't just about a child adhering to a particular set of standards, but it applies to educators as well. A great place to begin is by developing a shared vision for your school, which promotes a more positive school climate for all.
How Does that Work in a Virtual Setting?

Technology is pervasive in the lives of youths today. Learning and engaging online is a subset of social-emotional learning during the formative years of students, and technology is another venue for learners to acquire empathy and relationship-skills.
Personalized learning is a meaningful part of implementing SEL, and FEV Tutor's live 1:1 approach to instruction promotes a positive learning experience by supporting the academic growth of the learner on their educational level and establishing a positive relationship between the student and their preferred tutors.
This human-mediated virtual instruction makes skill mastery more efficient and tractable, leveraging more time and resources for teachers and parents to dedicate to 1:1 interaction and the five core competencies in social-emotional development. With assistance in mastering problem subject areas, students gain confidence and self-esteem, providing a more positive foundation for SEL.