FEV Tutor is excited and humbled to have been selected as a winner of the 2022 Tech & Learning "Back to School" Awards of Excellence in the Secondary Education category! This news comes at a pivotal time as districts across the country prepare for the beginning of the 2022-23 school year and search for innovative ways to support their teachers, students, and schools.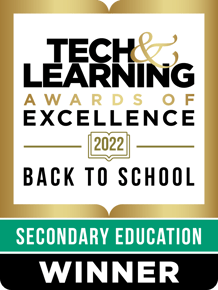 Tech & Learning's Awards of Excellence program, "The Best Tools for Back to School," is designed to help educators find the most impressive products and solutions to support their work in any learning environment. Eligible products included hardware, software, curriculum, and more, all divided by grade levels to make it easier for readers to find the solutions they need.

"As we head into another uncertain year in education, technology will continue to be one of the key drivers for innovation," says Tech & Learning Group Publisher Christine Weiser. "Our judges chose the winning products recognized here for their versatility, compatibility, value, and ability to help schools solve challenges and support continuous instruction. Congratulations to all of our winners."
FEV Tutor is the leader in K-12 high-impact tutoring for learning acceleration. Our personalized tutoring programs are designed in collaboration with our partners, utilizing existing curriculum resources, benchmark assessment data (NWEA MAP, iReady, STAR), and more to connect everything we do directly back to classroom learning environments. This includes regular reporting, which we use to show districts how impactful high-impact tutoring is for their students.

"It's such an honor to know that people are recognizing how important our work is and understand our differentiated approach," said Jim Tormey, FEV Tutor's CEO. "We leverage best practices -- high-quality tutor, consistent tutor, and individualized learning plans -- to deliver the best possible value to the students we serve. It's awesome to see so many innovative EdTech organizations continuing to make an impact on student outcomes."
We could not feel more energized and excited to continue supporting teachers, students, and schools in the upcoming school year. Congratulations to all of this year's winners! To read the complete list of winners and to learn more about the Tech & Learning Awards of Excellence, check out this news release.
Interested in discovering more about FEV Tutor's High Impact Tutoring programs and how we could fit into your school or district? Contact us or schedule a live demo to learn more!