FEV Tutor is #certified! That's right, our Live 1:1 Online Tutoring has earned the Research-Based Design Product Certification from Digital Promise. Digital Promise is a nonprofit organization that builds powerful networks and takes on grand challenges by working at the intersection of researchers, entrepreneurs, and educators. They launched the Research-Based Design product certification in February 2020 and have certified 44 products to date.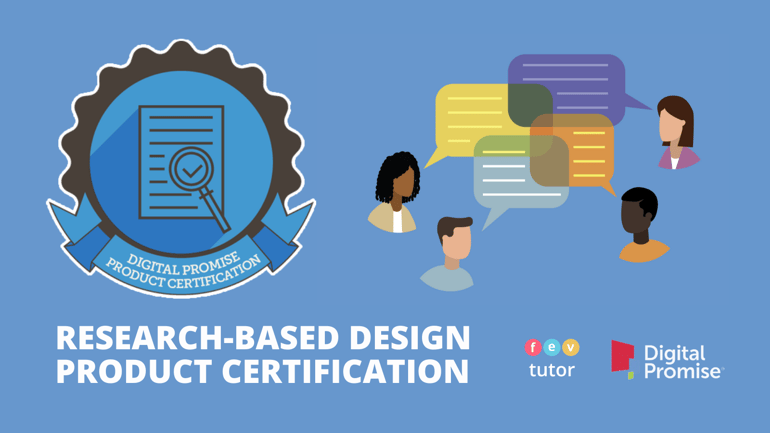 In order to be considered for this certification, FEV Tutor had to submit evidence that our Live 1:1 Tutoring methodology and models were developed using extensive research of the K-12 Education Market, particularly on the impact that our High Dosage Tutoring has on student learning and achievement.
Our Senior Vice President and Co-Founder had this to say in a recent press release about earning the certification:
"Evidence & Research are the foundation for designing student-centric learning products, that focus on the whole child and are set up for continuous and accelerated learning opportunities to make a difference in the lives of students. FEV Tutor's commitment to ongoing Evidence & Research intersects with Digital Promises' vision, mission, and leadership in the K-12 sector. We are grateful to have had the opportunity to work with Digital Promise on such important work and continue to help impact innovation and positive change in K-12 public education. This certification is another step in that direction, and we are proud to have been recognized by such an innovative leader in the space."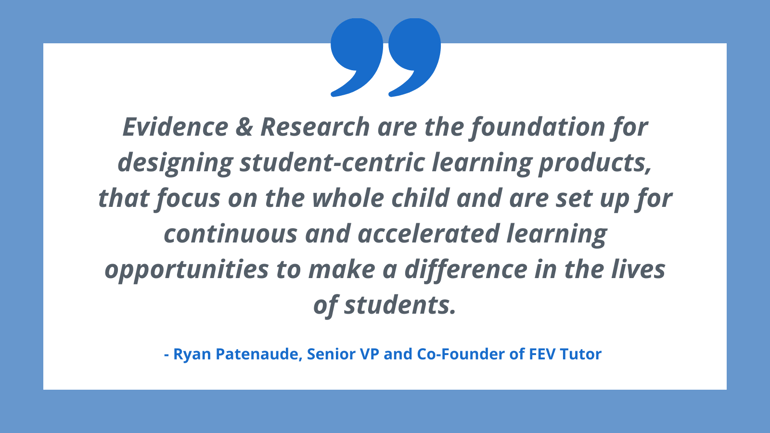 Through Product Certifications, educators and administrators can narrow their options as they select products based on research about learning before trying it out in their classrooms. The Research-Based Design product certification uses a competency-based learning framework, developed in consultation with Digital Promise's Learner Variability Project advisory board, expert researchers in the Learning Sciences field, and nearly 50 educators across the United States.
FEV Tutor actively prioritizes research in areas such as Learning Sciences for Social-Emotional Learning (SEL), Family Engagement Research, Instructional Methodologies & Standards Alignment, and COVID-19 Impact Research & Reporting to inform our foundational design model. In addition, we have worked with research organizations including Old Dominion University and JoinIn Ventures to assess and refine the effectiveness of our tutoring programs over the years. Certifications like this only further reinforce FEV Tutor's commitment to self-improvement so that we can continue to support the unique needs of every learner.