At FEV Tutor, we pride ourselves on having a foundation of supporting students and educators in the K-12 Education Community. We do this on a basis of core values that are ethically guided and socially responsible. We respect the environment and want to do our best to protect natural resources for future generations of learners and educators.
With Earth Day celebrating its 51st anniversary, we've established a team of dedicated individuals in our organization to promote sustainable practices within our company and to encourage the same in our communities. Without further adieu, meet the FEV Tutor Green Team!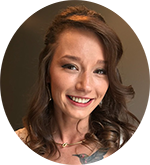 Leah Claflin, Co-Chair, Marketing Specialist Leah Claflin has had a love of all things nature since growing up on an 80-acre farm in rural Minnesota. After years of working as an environmental researcher for Harvard Forest, a community engagement specialist for a non-profit land trust, and a land manager for a non-profit organization dedicated to children's outdoor education, she's thrilled to combine her passions for the environment, marketing, and education.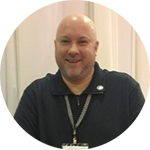 Garry Haraveth, Co-Chair, Regional Account Executive Garry Haraveth learned at an early age to enjoy and respect the outdoors through family outings and scouting. An avid camper, hiker, kayaker, and yearly participant in local environmental awareness campaigns like the "Annual River Clean Up", Garry has a love for the outdoors and setting a good example for his son as stewards of the Earth. As FEV Tutor's Northeast Regional Account Executive, Garry is honored to expand on his love of education supporting schools in their efforts to assist ALL students in reaching their educational goals.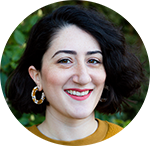 Aline Chaprazian, Committee Member, Director of Marketing Aline Chaprazian believes that we need to care for the earth because it's the only one we have! She incorporates green and sustainable practices into her everyday life, including recycling and supporting clean brands. Aline is a Director of Marketing at FEV Tutor, supporting each department to connect with administrators, parents, and students to learn more about FEV's services. She is happy to be part of the green team to educate others about how to make small changes in our lives that will help take care of our planet.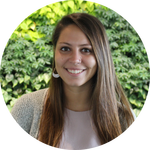 Isabella Cigna, Committee Member, Marketing Specialist From hiking in the warm weather to skiing in the winter, Bella is a huge lover of all things outdoors! This makes taking care of the environment especially important to her, because without a beautiful & healthy world, we wouldn't be able to enjoy some of the best things in life. Bella went to college up in Vermont, where she learned a lot about how to care for the environment. Her school had their own Organic Garden, a GreenUp club to promote sustainable practices, and everyone was responsible for composting and recycling in their daily life. The "green culture" that Bella learned about in Vermont is something that she brings back to MA where she currently lives and works as a Marketing Specialist for FEV Tutor. Simple things like using a reusable water bottle or reducing electricity use/ meat consumption made a huge difference for her, and Bella encourages others to do things like this so that we can protect our planet & wildlife.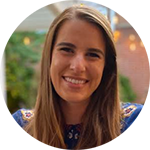 Sean Cicero, Committee Member, Academic Success Coach Growing up in rural Massachusetts and the daughter of an active environmentalist and biologist, Sean spent a lot of time outside exploring, hiking, and appreciating all Mother Nature had to offer. Continuing these habits as an adult, Sean actively works to incorporate sustainable practices in her everyday life through recycling, composting, and gardening. Sean is an Academic Success Coach who works with schools and districts across the country to implement tutoring programs that meet the needs of each individual student. She is excited to be a part of the Green Team to encourage sustainability and green practices as she believes every individual can participate in some way and work to protect our planet!
Beyond establishing the Green Team, we've developed our own set of goals to encourage sustainability in our organization. We're starting with a donation to a non-profit near and dear to our heart, The Nature Conservancy. Founded in the U.S. through grassroots action in 1951, The Nature Conservancy has grown to become one of the most effective and wide-reaching environmental organizations in the world. Beyond our Earth Day gift, we plan to continue supporting this organization as a way to offset company travel and promote an ongoing commitment towards corporate responsibility and instill in our team members a continued effort towards sustainable practices.
Reduce, Reuse, and Recycle,

The FEV Tutor Team will Recycle paper, plastic, aluminum, and other office products whenever possible!

Encourage Employees To:

Utilize Reusable cups/bottles rather than bottled water

Encourage Employees To:

Go as paperless as possible. When printing is required, use recycled paper for printing and set print double-sided when possible.

Encourage Employees To:

Turn off computers, power strips, monitors, when not in use.

Encourage employees To:

use alternative methods of transportation when possible.

Encourage Employees To:

Use environmentally-friendly cleaning products

Encourage Employees To

:

Adjust the thermostat by one or two degrees in the summer and winter to save energy
We Allow employees flexible work schedules to reduce travel, such as the option to work from home when able.

Utilize video & teleconferencing to replace unnecessary travel, when possible

Creation of a sustainability committee to encourage company-wide sustainability best practices.
Moving Forward:

Offsetting Emissions of company travel to the best of our abilities by donations to Environmental Organization, sharing sustainability best practices whenever possible, continuing to evaluate our sustainability policies and initiatives.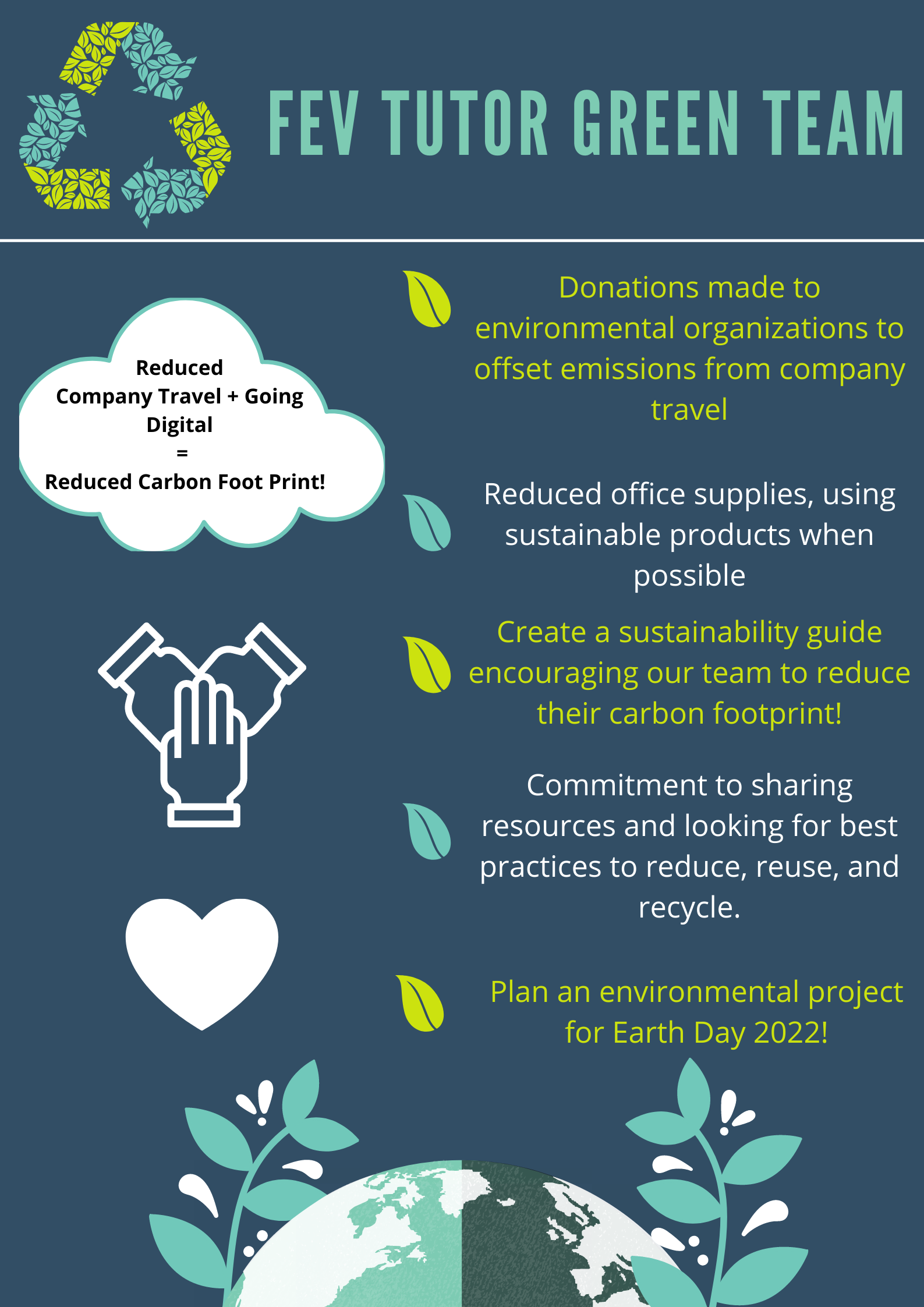 At our core, our passion at FEV Tutor is supporting all learners and educators in any learning environment. As such, we've compiled a list of resources for fun ways to celebrate Earth Day at your School or District! How are you celebrating? Let us know in the comments below!