CHALLENGE
Pleasanton ISD is a rural school district located south of San Antonio in Pleasanton, Texas. Pleasanton ISD serves students in a ranching and small business area and supports a large number of low-income families. The district chose to partner with FEV Tutor to help drive gains on the STAAR assessments and bridge skill-gaps for Special Education, ESL, and Migrant students. Historically, special student populations at Pleasanton ISD had performed below the state average on STAAR Assessments.

SOLUTION
District leadership identified at-risk students in grades 3-8 across the district who had not previously passed or who were at risk for not passing the STAAR assessments in Math and ELA. These students participated in targeted tutoring intervention during the school day.
District leadership shared recent STAAR data so that the FEV data team could analyze and identify students that would benefit most from live, 1:1 tutoring and to create Personalized Tutoring Plans for individual students. Tutoring Plans were based on STAAR Scores, focus areas, and target TEKS.
DEMOGRAPHICS

THE RESULTS
FEV Tutor worked with Pleasanton ISD leadership to complete a growth analysis utilizing STAAR and EOC scores from first time and re-test administrations.
STAAR Growth 2017-2018
In the spring of 2017, students only had a 10% passing rate on the Math STAAR assessment. After one semester of tutoring, the passing rate for this student cohort increased to 50%.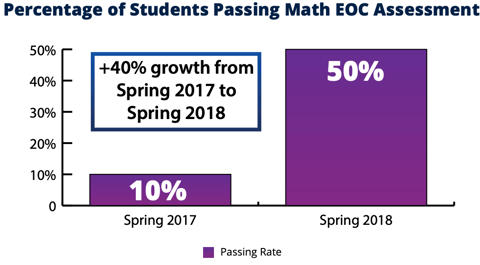 ESL Student Growth
Pleasanton ISD had previously fallen behind the state average in regards to STAAR passing rates for special student populations, including English Language Learners. After one semester of tutoring, 8th grade ESL students demonstrated 67% expected growth on ELA STAAR and 100% expected growth on Math STAAR in the spring of 2018.