CHALLENGE
Dallas ISD is a diverse, urban school district in north Texas. Dallas ISD is the second-largest district in the state and serves a high ELL and low-income student population. The district chose FEV Tutor as an approved tutoring provider to help at-risk students throughout the district prepare for STAAR End of Course Assessments.
Collegiate Academies including Wilmer-Hutchins, Pinkston, Thomas Jefferson, Conrad, and Lincoln, as well as personalized learning schools such as IDEA Academy and Ignite Middle School, partnered with FEV Tutor to provide targeted intervention in Math and ELA as students prepared for the Spring STAAR assessments.
SOLUTION
Administrators at each school site identified first time Math and English STAAR testers who were at-risk for failing their Spring EOC assessments based on Mock STAAR and benchmark assessment data. Re-test students at the high school level who failed the EOC one or more times were also chosen to participate in targeted tutoring intervention during the school day and during summer intervention programs.
School sites shared recent STAAR EOC and ACP data so that the FEV Data Team could analyze and identify students that would benefit most from live, 1:1 tutoring and create Personalized Tutoring Plans for individual students. Tutoring Plans were based on STAAR EOC Scores, focus areas, and target TEKS
DEMOGRAPHICS

THE RESULTS
FEV Tutor worked with Dallas ISD school leadership to complete a growth analysis utilizing STAAR and EOC scores from first time and re- test administrations.
Summer 2018 EOC Assessment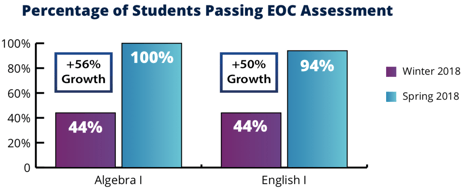 In winter 2018, only 44% of Wilmer-Hutchins Collegiate Academy students achieved a passing score on their Algebra I ACP assessments. After one semester of tutoring, 100% of participating students passed the Algebra I EOC in the Spring. Pinkston Collegiate Academy identified a similar challenge with only 44% of students passing their ACP assessments. In spring 2018, 94% of participating FEV Tutor students passed their English I EOC. This was the highest English I passing rate in the district.
Summer 2018 EOC Re-Test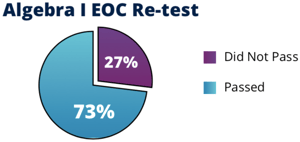 Algebra I re-test students at IDEA Academy participated in a 2-week targeted intervention program during the month of June. Tutoring plans were individualized for each student based on Spring EOC data. At the end of the 2 weeks, 73% of participating students passed their Algebra I re-test.