To encourage our students to take an active role in their learning process and to help make learning fun, FEV Tutor introduced "My Journey" to our Online Tutoring portal this fall. Students are rewarded with points for positive behaviors, such as taking ownership of their learning, mastering new concepts, participation, and more. As students accumulate points, they earn Micro-Badges that unlock new levels on their game-board to compete with their classmates and earn privileges to customize their avatar and tutoring experience. In this post, we will examine how FEV's My Journey helps students to become self-advocates.
---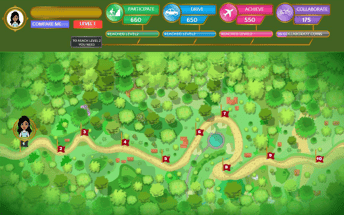 Putting Students in the Driving Seat
Learning to become a self-advocate is a critical skill for students to achieve long-term academic success. FEV Tutor includes badges to encourages students to become the driver of their own learning process. Badges in our "Drive" category are earned by exemplifying behaviors associated with taking ownership of their learning.
Below are just a few ways that your students can start earning badges in the "Drive" category. With each badge earned, students collect coins toward leveling up over time. Every 100 points allows students to move up another level, therefore unlocking new features for their Avatar and moving across the game board.
Setting Academic Goals:

Successful students come to their tutoring sessions ready to learn! Students earn points for providing FEV Tutor inputs regarding their academic goals. Students can share their goals and contributions directly into the FEV portal or email the tutoring team ahead of their tutoring sessions.

Preparedness:

Students can earn points for having the self-awareness to prepare for tutoring sessions by having the specific assignments and files they want to work on ready to review with their tutor. Students can upload files directly into FEV's Online Tutoring Portal or share their computer screen so the student and tutor can maximize instructional time.

---

---

Self-Reflection:

One way in which students can practice self-advocacy is by providing feedback at the conclusion of each tutoring sessions. Students can rate their sessions and tutors and submit comments related to their experience. This information is reported back to tutors so that we can continue to improve instruction and meet the needs of individual learners.

Utilizing Resources Independently:

FEV Tutor provides 24/7 On-Demand support for direct help with homework and coursework across all core subjects. Students who access our On-Demand resources will earn points for showing initiative and maximizing the resources provided by their school. The more On-Demand session students attend, the more points they accumulate within the "Drive" category!

Time Management

Working with our students on time management and planning can be a challenge. One way in which students can practice this skill is by setting a weekly tutoring schedule. Students can do this directly on their dashboard, or by emailing FEV Tutor with their preferred days and times. Many students find that setting a weekly schedule not only provides structure but allows them to build a working relationship with their tutor over time.

---

"There is a useful purpose to the points earned in sessions. This has encouraged... my [student] to become more engaged in Homework Help sessions. He also has asked for scheduled tutoring sessions to earn more points!"

-Teacher at Epic Charter Schools

---

Improving Study Skills

All of our tutoring sessions are recorded and can be played back like a video file. Students can earn badges for taking the time to review their work when preparing for an upcoming exam. Students have the option of watching entire tutoring sessions or fast forwarding to watch specific segments they need to brush-up on.
---
Questions About the My Journey Feature?
Watch this brief video to learn more!

---