We are thrilled to announce the launch of a brand new page on the FEV Tutor website: the Case Study Hub! This hub will serve as a dedicated place for showcasing our latest case studies and success stories in collaboration with our valued district partners. We believe that sharing the incredible work and achievements of our customers is of utmost importance, and this hub will make it easier than ever to explore and share their inspiring stories.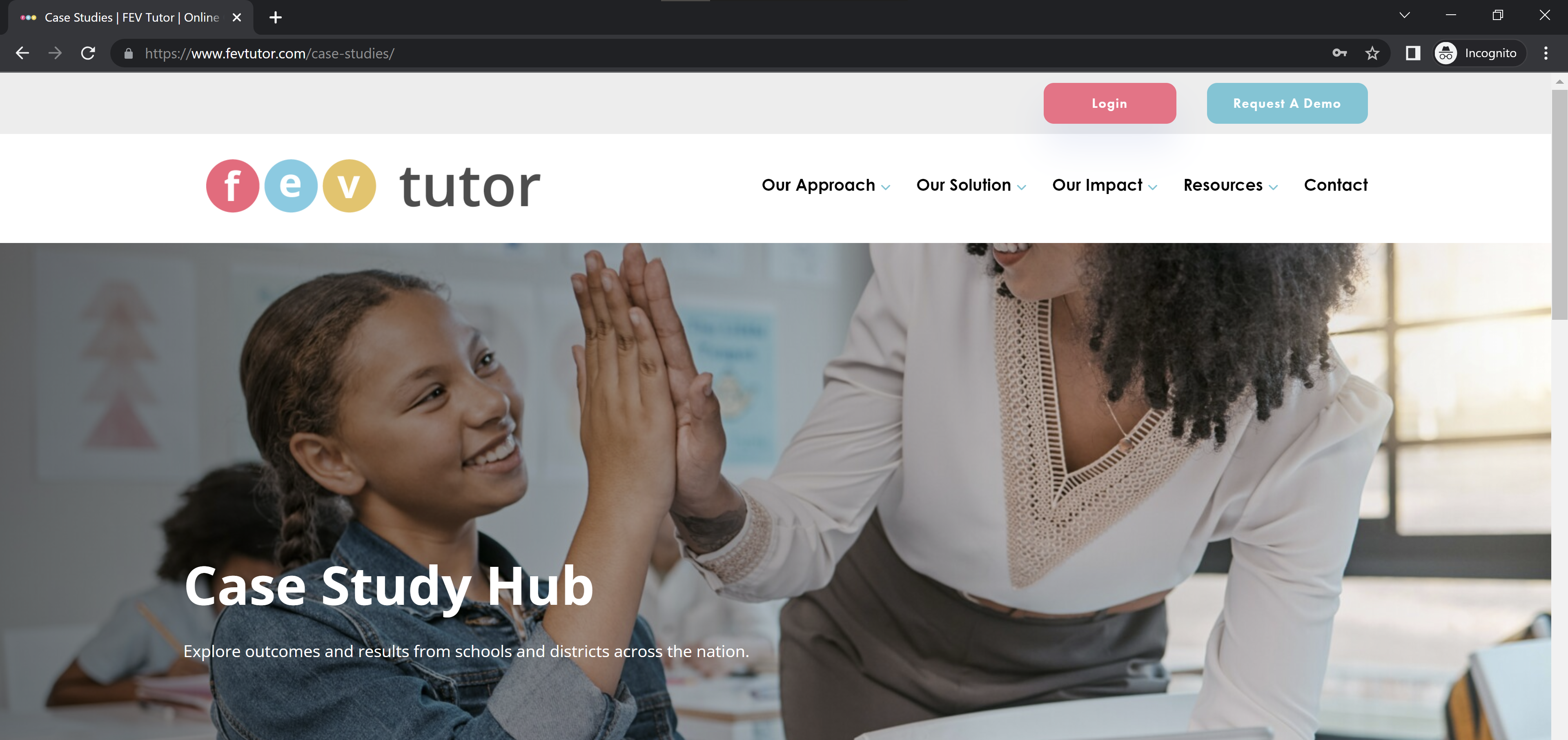 In the realm of education, the power of real-world examples cannot be underestimated. Case studies provide valuable insights into the impact of innovative solutions, highlight effective strategies, and inspire educators and administrators alike. By featuring these success stories prominently on our Case Study Hub, we aim to celebrate the remarkable efforts undertaken by our partner districts to enhance student learning outcomes. This hub will serve as a knowledge-sharing platform, enabling educators to learn from their peers, draw inspiration from successful implementations, and adapt strategies that have proven effective in similar contexts.
One of the key advantages of our Case Study Hub is its intuitive menu system, allowing users to easily search and filter through the case study list. Whether you are interested in a specific region, enrollment size, topic, or assessment type, the hub provides a user-friendly interface that helps you discover relevant success stories that align with your specific interests and needs.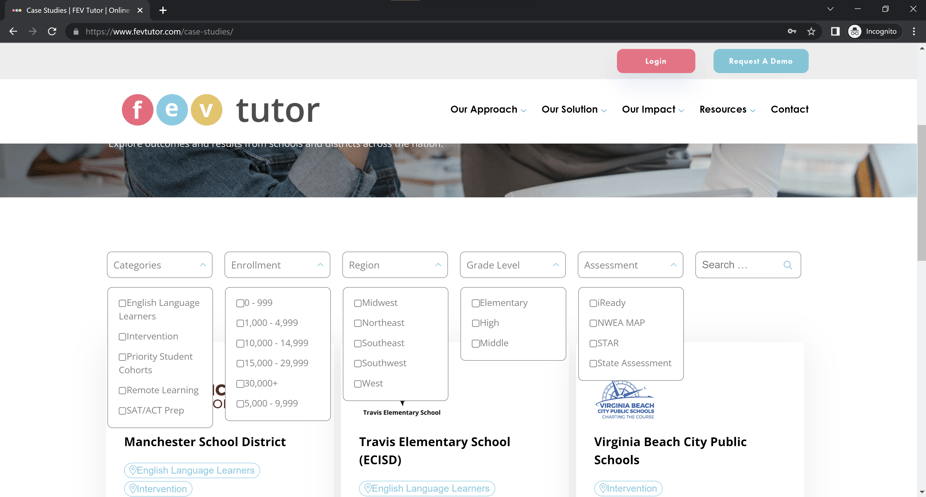 Another key feature we've added to make sharing these stories even easier is social media sharing buttons. With just a few clicks, you can now easily share the inspiring case studies and success stories you come across with your colleagues on popular platforms such as Twitter, Facebook, and LinkedIn. By leveraging the power of social media, we aim to amplify the reach of these stories and encourage conversations among educators, administrators, and stakeholders who are proud and passionate about transforming education.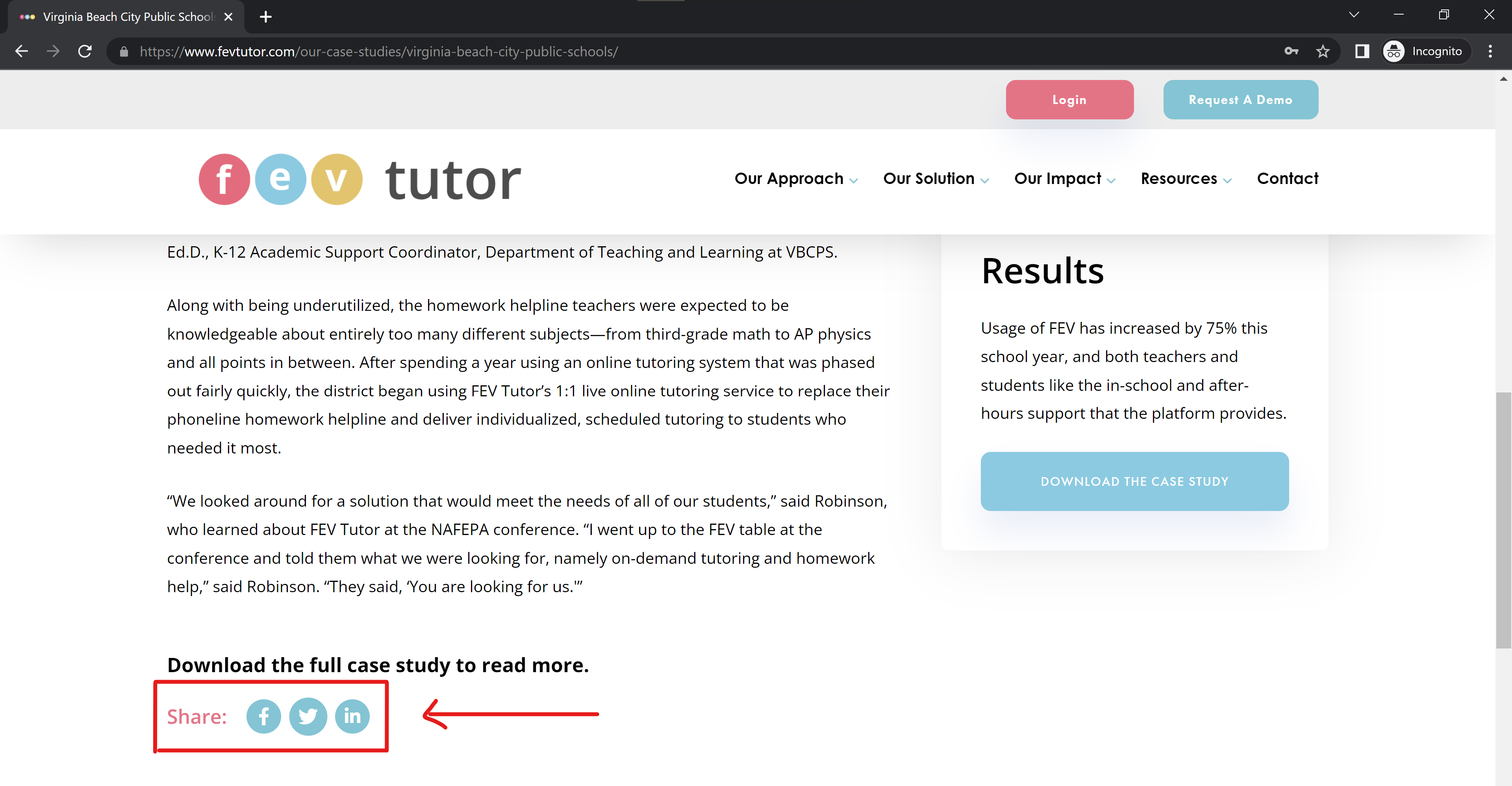 At FEV Tutor, we are incredibly proud to work alongside our district partners, and we are excited to unveil the Case Study Hub as a testament to their dedication and success. We invite you to explore this new addition to our website, engage with the case studies, and discover the transformative impact of personalized learning and instructional support.
Visit the Case Study Hub today and join us in celebrating the remarkable accomplishments of our district partners.